You hungry?
Try some of our delicious Beef of Chicken!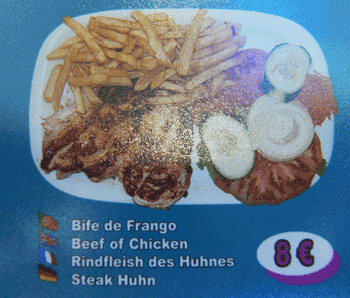 Man beachte, dass die Köstlichkeit auf Französisch
"Rindfleish des Huhnes" heißt (nur gewiefte Connoisseure der französischen Sprache werden hier die Aussprache adäquat zu meistern wissen),
auf Deutsch hingegen, gewohnt sachlich,
"Steak Huhn".
Und da Fisch bekanntlich nur in homöopathischen Dosen eingenommen werden sollte


hat man sich seitens der Gourmettempelbetreiber hierauf bestens eingestellt.
Bei Zuwiderhandlung drohen "Portionen" (hier bleibt leider offen, ob es sich um deutsche [deftig] oder französische [lasziv] handelt).
Oder gar "Einträge". Vermutlich ins Klassenbuch.